Adafruit Industries

Adafruit Industries ADXL335 5V Ready Triple-Axis Accelerometer
Overview
We've updated our favorite triple-axis accelerometer to now have an on-board 3.3V regulator - making it a perfect choice for interfacing with a 5V microcontroller such as the Arduino. This breakout comes with 3 analog outputs for X, Y and Z axis measurements on a 0.75"x0.75" breakout board. The ADXL335 is the latest and greatest from Analog Devices, known for their exceptional quality MEMS devices.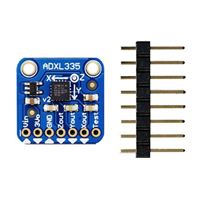 Adafruit Industries ADXL335 5V Ready Triple-Axis Accelerometer
Usually ships in 5-7 business days.