Adafruit Industries

Adafruit Industries SPW2430 Silicon MEMS Microphone Breakout
Overview
Listen to this good news - we now have a breakout board for a super tiny MEMS microphone. Just like 'classic' electret microphones, MEMS mics can detect sound and convert it to voltage, but they don't need a bias resistor or amplifier, its all in one! The SPW2430 is a small, low cost MEMS mic with a range of 100Hz - 10KHz, good for just about all general audio recording/detection.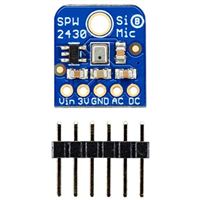 Adafruit Industries SPW2430 Silicon MEMS Microphone Breakout
Usually ships in 5-7 business days.