Adafruit Industries

Adafruit Industries Analog 2-axis Thumb Joystick with Select Button and Breakout Board
Overview
This mini-kit makes it easy to mount a PSP/Xbox-like thumb joystick to your project. The thumbstick is an analog joystick - more accurate and sensitive than just 'directional' joysticks - with a 'press in to select' button. Since it's analog, you'll need two analog reading pins on your microcontroller to determine X and Y. Having an extra digital input will let you read the switch.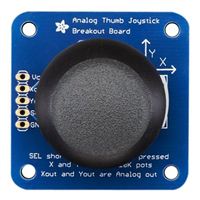 Adafruit Industries Analog 2-axis Thumb Joystick with Select Button and Breakout Board
Usually ships in 5-7 business days.