Cooler Master

Cooler Master New Edition MasterGel Maker Diamond Particle Thermal Paste
Overview
Introducing Cooler Master New Edition MasterGel Maker: with a new exclusive flat-nozzle syringe design to simplify the sometimes messy application of thermal paste. This new design distribute a flat precise and even spread of paste: eliminates the need of a scrapper in applying thermal paste. MasterGel Maker Nano-tech Diamond Particle properties developed for users needing the best thermal conductivity for high performance CPUs: GPUs or even chipsets. The non-curing and non-electrical conductive traits help avoid any short circuiting and provide protection and performance for long-term use. The Nano Diamond particles allows for extremely lightweight and easy to spread or remove while avoiding auto-oxidation or erosion overtime.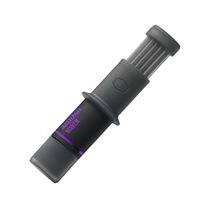 Cooler Master New Edition MasterGel Maker Diamond Particle Thermal Paste
Usually ships in 5-7 business days.