Hyperkin

Hyperkin Armor3 Wired Keyboard for Nintendo Switch
Overview
Communication is the key to victory! Relay commands instantly with the Armor3 NuType Wired Keyboard for Nintendo Switch! Gear up by inserting your left and right Joy-Con into the easy-to-slide-in railing and by plugging in the 10 ft. cable into a free port on your Switch Dock. Its compact design allows for a seamless transition between using your Joy-Cons and the keyboard, making it perfect for quick communication while playing any text chat-enabled game! It also makes typing into the eShop search bar and logging in an easy task. The indicator light on the keyboard displays your player number on the battlefield. The troops await your orders!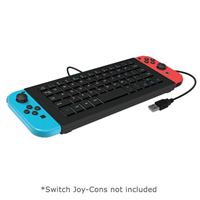 Hyperkin Armor3 Wired Keyboard for Nintendo Switch
Usually ships in 5-7 business days.