Adafruit Industries

Adafruit Industries PyGamer for MakeCode Arcade, CircuitPython or Arduino
Overview
What fits in your pocket, is fully Open Source, and can run CircuitPython, MakeCode Arcade or Arduino games you write yourself? That's right, it's the Adafruit PyGamer! We wanted to make an entry-level gaming handheld for DIY gaming, and maybe a little retro-emulation. It's not the fastest and best of everything but it is an all-in-one dev board with a lot of possibilities!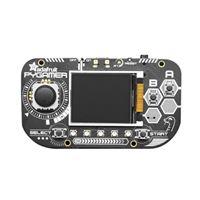 Adafruit Industries PyGamer for MakeCode Arcade, CircuitPython or Arduino
Usually ships in 5-7 business days.