Monoprice

Monoprice Maker Plus 10 3D Printer
Overview
The MP10 is a feature rich 3D printer with a 300 x 300 heated, flexible, and removable steel spring build plate, and an all metal extruder. It has an assisted level sensor on its magnetic extruder assembly, allowing easy changes to the Z offset in the menu for easy and perfect first layers. Wiring is no issue, as all of the components are already prewired and ready to go, with the connections hidden in the cable management sleeve. Most importantly, prints are crisp and clean.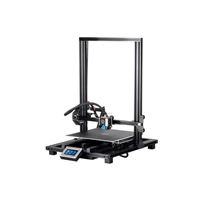 Monoprice Maker Plus 10 3D Printer
Usually ships in 5-7 business days.