NetGear

NetGear XS512EM-100NAS Multi-Gigabit Manageable Ethernet Rackmount Smart Plus Switch
Overview
With the growth of virtualization, flash Storage, 4K videos, video streaming and IP surveillance, SMB networks need to extend beyond 1 Gigabit barrier. The 10-Gigabit/Multi-Gigabit Smart Managed Plus series from NETGEAR presents the right solution for this requirement; delivering unprecedented 10-Gigabit/Multi-Gigabit band with at an affordable cost. Each port automatically detects which speed is needed by the connected device and provides the adequate speed. As opposed to regular 10-Gigabit switches that will only provide 1-Gigabit connectivity to any device that require less than 10-Gigabit, the XS512EM and XS724EM gives the exact speed required, no downgrade. Also, the new NETGEAR Multi-speed switch ports can be connected with regular Cat5E Ethernet cables, without the need to upgrade to Cat6/Cat6A wiring, therefore reducing wiring costs and hassle.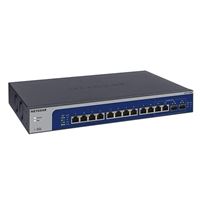 NetGear XS512EM-100NAS Multi-Gigabit Manageable Ethernet Rackmount Smart Plus Switch
Usually ships in 5-7 business days.