Samsung

Samsung SMARTBULB/GP-LBU019BBAWU / GP-LBU019BBAWU / Smart Light Bulb SmartThings Dimmable Light Bulb/SmartThings Hub Required
Overview
Control your light fixture from anywhere with the soft white SmartThings A19 Bulb from Samsung. This bulb utilizes the Zigbee communication protocol, enabling you to turn the bulb on and off, as well as create customized schedules with the SmartThings app for iOS and Android.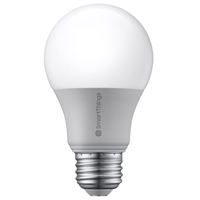 Samsung SMARTBULB/GP-LBU019BBAWU / GP-LBU019BBAWU / Smart Light Bulb SmartThings Dimmable Light Bulb/SmartThings Hub Required
Usually ships in 5-7 business days.