Intellinet

Intellinet 24-Port Gigabit Ethernet Switch with 10 GbE SFP/SFP+ Uplink
Overview
Equipped with two 10 GbE SFP+ open slots, the Intellinet Network Solutions 24-Port Gigabit Ethernet Switch is the ideal solution for cost-sensitive organizations considering 10 Gigabit Ethernet. With 10 GbE technology going mainstream and becoming ever more popular, the need for additional bandwidth has become more urgent than ever before even in smaller networks.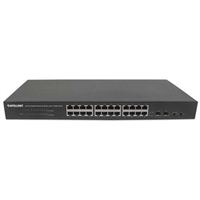 Intellinet 24-Port Gigabit Ethernet Switch with 10 GbE SFP/SFP+ Uplink
Usually ships in 5-7 business days.