Smithsonian

Smithsonian 30X Telescope/Monocular
Overview
See things closer with the dual-function Smithsonian 30X Telescope and Monocular Kit. Use this item to inspire scientific curiosity in a child. It makes a good gift for budding astronomers and hobbyists alike. This Smithsonian telescope kit includes an aluminum tabletop tripod that makes proper positioning easy. Ages 8 and up.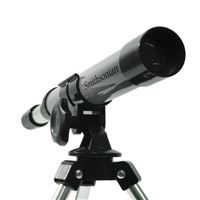 Smithsonian 30X Telescope/Monocular
Usually ships in 5-7 business days.