iFixit

iFixit Manta Driver Kit
Overview
This kit includes our widest assortment of bits, complete with every driver head you'll need to tackle any repair or DIY project. It includes standard bits like Phillips and Flathead in a full range of sizes to handle everything from precision electronics repair to home DIY projects. And it would't be an iFixit bit kit if it didn't include all the exotic bits from Pentalobes for Apple iPhone and MacBook repair to Gamebits for your vintage Nintendo consoles.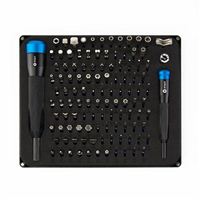 iFixit Manta Driver Kit
Usually ships in 5-7 business days.