Adafruit Industries

Adafruit Industries PowerBoost 1000 Basic 5V USB Boost @ 1000mA from 1.8V+
Overview
PowerBoost is the perfect power supply for your power-hungry portable project! This little DC/DC boost converter module can run from 1.8V batteries or higher, and convert that voltage to 5.2V DC for running your 5V projects. With a beefy 4A DC/DC converter, it can give you 1A+ from as low as 2V.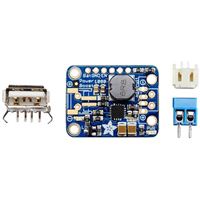 Adafruit Industries PowerBoost 1000 Basic 5V USB Boost @ 1000mA from 1.8V+
Usually ships in 5-7 business days.