Adesso

Adesso Wireless 18-Key Numeric Keypad
Overview
Our 18-Key Wireless Numeric Keypad allowsyou to input data from up to 30' away. Auto-sleep battery saving technology ensures your keypad is powered and ready to use. Our quiet-type membrane key switches are quiet and fast and promote accuracy.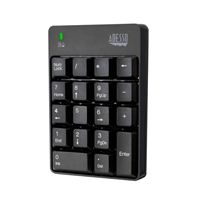 Adesso Wireless 18-Key Numeric Keypad
Usually ships in 1-3 business days.