Adesso

Adesso 18-Key Numeric USB Keypad
Overview
Our 18-Key Numeric Keypad utilizes quiet-type membrane key switches for speed and accuracy. This Plug-n-play design connects to an available USB port and is ready to go within seconds. Our spill-resistant design combined with this compact design provides the perfect desktop accessory to input numbers.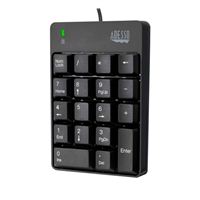 Adesso 18-Key Numeric USB Keypad
Usually ships in 1-3 business days.