Inland

Inland Arduino Compatible Basic Starter Kit
Overview
Discovering Arduino can be EASY and FUN. This Basic Starter Kit gives you everything you need to build a Volt Meter, LED Game, Buzzer Circuit, or play a melody. Kit includes an Arduino compatible Uno R3 Board, and components needed to complete various projects.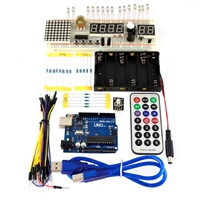 Inland Arduino Compatible Basic Starter Kit
Usually ships in 5-7 business days.