Next Level Racing

Next Level Racing Folding Racing Wheel Stand
FREE iRacing 1-year subscription with purchase of ANY sim racing rig!

Overview
Create your own racing sim setup with the Racing Wheel Stand from Next Level Racing. This durable metal frame supports all major wheels and pedals, and can be folded up when not in use. Pair it with a racing seat and additional accessories for a realistic setup. Depending on your preference, the gear shifter can be installed on either the left or right side and adjusted as needed. This wheel stand comes almost completely assembled and has pre-drilled holes for Logitech, Thrustmaster, and Fanatec racing wheels. The next Level Racing Wheel Stand allows for great accuracy for GT racing immersion! It also works well for all other styles of racing, F1 and Rally.


Wheel Stand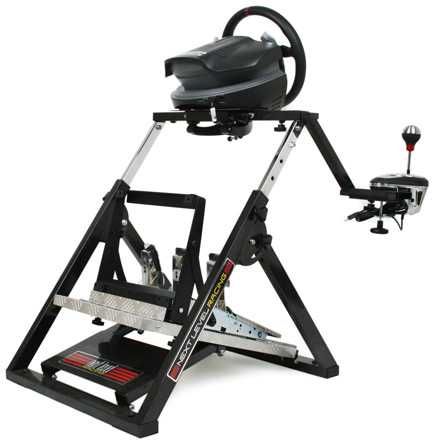 Electronics not included and for display purposes only.
Revolutionize Your Racing Experience
The Next Level Racing Wheel Stand's patented design is super solid so you can drive like a pro with your wheel, pedals, and shifter all in a realistic racing position.
Even better, you can customize your wheel stand with Next Level accessories to build your unique Racing Cockpit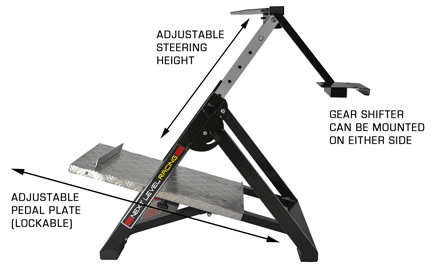 Next Level Wheel Stand's Unique Features
Arrives almost completely assembled, folds for storage in seconds
Adjustable wheel, gear shift, and pedal positions
Included gear shifter support can be added on either side
All major wheels and pedals supported; pre-drilled for Logitech, Thrustmaster, and Fanatec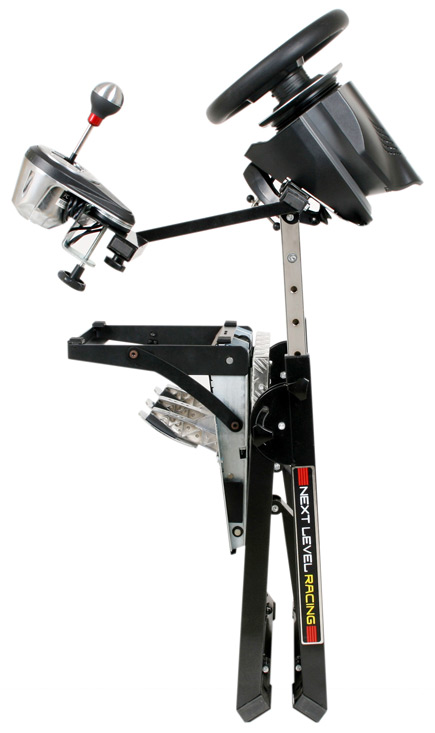 Electronics not included and for display purposes only.
Wheel Stand Specifications
Supported Height - 4ft - 6ft 9 inches
Product Dimensions - L 25" x W 22" x H 24-31" inches
Product Weight - 33 lbs
Boxed Dimensions - 25" x 6" x 29" inches
Boxed Weight - 42 lbs
Add Additional Components
About The Next Level Racing Wheel Stand
Next Level Racing Wheel Stand Review