Aluratek

Aluratek Universal Bluetooth Audio Receiver and Transmitter with Built In Battery
Overview
Alurateks Bluetooth Universal Audio Receiver and Transmitter is the one and only adapter you will need to add Bluetooth streaming functionality to your home entertainment system or transmit music to your Bluetooth headphones and speakers. Simply flip the switch on the unit to enable either Bluetooth Receiving or Bluetooth Transmitting The dual receiver / transmitter features a built-in rechargeable battery so you can enjoy wireless audio receiving and transmitting up to 33 feet for up to 15 hours on a full charge. ABC01F remembers up to four Bluetooth devices and can stream two headphones simultaneously in transmitter mode.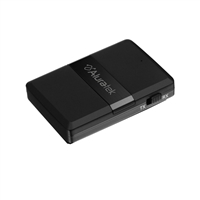 Aluratek Universal Bluetooth Audio Receiver and Transmitter with Built In Battery
Usually ships in 5-7 business days.