Adafruit Industries

Adafruit Industries Raspberry Pi Arcade Cabinet Pack
Overview
Couldn't get one of those Nintendo Mini Classic consoles? No problem, we've got you covered with this no-solder no-tools required kit! Video games are one of the most popular applications for the Raspberry Pi (and one of the best gifts to get over the holidays). Play NES, Sega, MAME, SNES, Atari and more!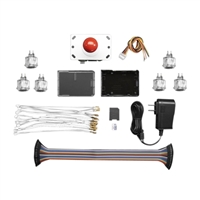 Adafruit Industries Raspberry Pi Arcade Cabinet Pack
Usually ships in 1-3 business days.