Smithsonian

Smithsonian Rocket Science Kit
Overview
The NSI Smithsonian Rocket Science Kit teaches kids about propulsion, motion, opposing forces, and more. This rocket is powered by vinegar and soda and travels as much as 100 feet. It can be launched again and again. Learn about rocketry in a fun and interactive way. Includes informational and educational poster. Adult supervision required. Recommended for ages 8 and up.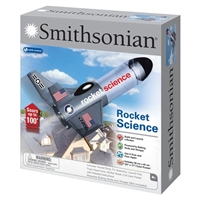 Smithsonian Rocket Science Kit
Usually ships in 5-7 business days.