C4Labs

C4Labs Zebra Zero Raspberry Pi Zero Type 2 Case - Black Ice
Overview
For the new Raspberry Pi Zero, the Zebra Zero Case offers ultimate protection with distinction. After receiving feedback about our first Zebra Zero (type 1) case, we have redesigned this new case to earn the flagship title our Zebra cases carry. It matches the dimensions of the Pi Zero but adds a middle wood layer to increase strength. The clear top and bottom provide a great view of the board while maintaining a low profile with the help of our custom made C4 nuts. A benefit of our new nuts is that they can accept a bolt from either end so if you installed a HAT or pHAT, it can be secured to the nuts on the other side. In addition to the premium build, we are also including a heatsink to improve the cooling potential of the 1Ghz CPU on the Pi Zero.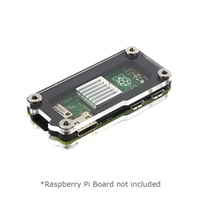 C4Labs Zebra Zero Raspberry Pi Zero Type 2 Case - Black Ice
Usually ships in 5-7 business days.