Adafruit Industries

Adafruit Industries Pi Protector for Raspberry Pi Model Zero
Overview
Now that we're carrying the Pi Zero, PaintYourDragon is back with another gorgeous laser-cut masterpiece. This time he's taken a pass at a Pi Protector for Raspberry Pi Zero, not quite a full case, it will keep your Pi Zero safe and svelte. Keep your Raspberry Pi Zero computer tidy and safe in this lovely clear acrylic enclosure. We designed this simple protector to be beautiful, easy to assemble and perfect for any use (but especially for those who want to carry their Pi around in their pocket!) This enclosure is only compatible with the Raspberry Pi Zero!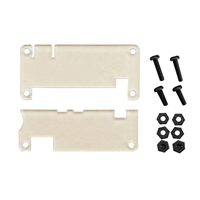 Adafruit Industries Pi Protector for Raspberry Pi Model Zero
Usually ships in 5-7 business days.