Adafruit Industries

Adafruit Industries Assembled Data Logging shield for Arduino
Overview
Here's a handy Arduino shield: we've had a lot of people looking for a dedicated and well-designed data logging shield. We worked hard to engineer an inexpensive but well-rounded design. You can get going quickly - saving data to files on any FAT16 or FAT32 formatted SD card, to be read by any plotting, spreadsheet or analysis program. Please note that this item does not come with an Arduino (you'll need one to use with the shield), or an SD card. The shield now comes with all the components soldered on and tested but does not have headers installed. You'll need some basic soldering skills to put it together, but even if you don't have much experience you can get it done in under 15 minutes.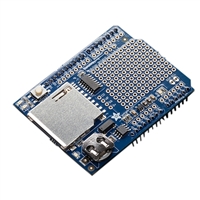 Adafruit Industries Assembled Data Logging shield for Arduino
Usually ships in 1-3 business days.