MCM Electronics

MCM Electronics TowerPro SG-5 Standard Servo
Overview
This high-torque standard servo can rotate approximately 180 degrees (90 in each direction). You can use any servo code, hardware or library to control these servos. Good for beginners who want to make stuff move without building a motor controller with feedback & gear box.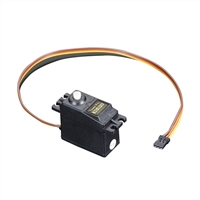 MCM Electronics TowerPro SG-5 Standard Servo
Usually ships in 5-7 business days.