CyberPower Systems

CyberPower Systems 1325VA UPS with LCD Display
Overview
A mini-tower Battery Backup/ UPS (uninterruptible power supply) with line interactive topology; the CyberPower Intelligent LCD LX1325GU provides battery power and surge protection for desktop computers, workstations, networking devices, and home entertainment systems. The LX1325GU uses Automatic Voltage Regulation (AVR) to correct minor power fluctuations without switching to battery power, which extends battery life. AVR is essential in areas where power fluctuations occur frequently. Two USB 2.1A charging ports provide charging power for portable devices such as tablets, mobile phones, MP3 players, and cameras.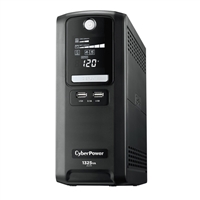 CyberPower Systems 1325VA UPS with LCD Display
Usually ships in 5-7 business days.