Night Owl

Night Owl DVR/Camera Power Adapter Combo with a 9-way power splitter
Overview
Night Owls SPF-ADVR-12V5A is a combo DVR/Camera Power Adapter with a 9-way power splitter. Tired of looking at your messy plugs? This combo set will allow you to easily power up to 8 security cameras and 1 DVR or AHD DVR, utilizing 1 outlet! Now you can consolidate your plugs with peace of mind, knowing your cameras will always be connected, escaping the chance of missing out on any suspicious activity!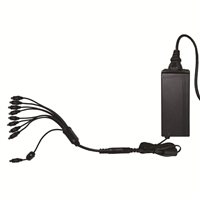 Night Owl DVR/Camera Power Adapter Combo with a 9-way power splitter
Usually ships in 1-3 business days.