Night Owl

Night Owl Combo DVR/Camera Power Adapter with 9-Way Power Splitter
Overview
Night Owls SPF-ADVR-12V5A is a combo DVR/Camera Power Adapter with a 9-way power splitter. Tired of looking at your messy plugs? This combo set will allow you to easily power up to 8 security cameras and 1 DVR or AHD DVR, utilizing 1 outlet! Now you can consolidate your plugs with peace of mind, knowing your cameras will always be connected, escaping the chance of missing out on any suspicious activity!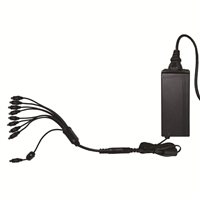 Night Owl Combo DVR/Camera Power Adapter with 9-Way Power Splitter
Usually ships in 5-7 business days.