WinBook WinBook TW100 10.1 Tablet - Black

Widescreen IPS Touchscreen 10.1" 1280 x 800 Display; Intel Baytrail-T Z3735D 1.33GHz Quad-Core CPU; 2GB RAM & 32GB eMMC Flash Storage; Windows 8.1

Overview
Widescreen IPS Touchscreen 10.1" 1280 x 800 Display
Intel Baytrail-T Z3735D 1.33GHz Quad-Core CPU
2GB RAM & 32GB eMMC Flash Storage
Windows 8.1
Expandable up to 64GB via microSD card
Winbook TW100 10.1 Tablet - Black
Continuing the winning WinBook tradition
A trusted award-winning brand for 25 years, WinBook tablets continue our tradition of outstanding quality and proven performance; core values of the WinBook product line. Featuring the best, most widely preferred mobile technology like Intel® quad-core processing, Intel HD graphics, and Windows® 8.1 operating system, WinBook tablets are designed for every mobile user in today's digital world. The inclusion of one year of Microsoft® Office 365 Personal makes WinBook tablets the best choice for business users who depend on Access and PowerPoint; students, who require the features and flexibility of OneNote; and busy household executives who track family budgets, after-school schedules, and important tasks in Excel and Outlook. And that's only some of what you can do with a WinBook tablet which also boasts robust security features, powerful WiFi capability, Bluetooth® 4.0, and exceptional battery life. Put one in your go gear and power on.



Full-size USB 3.0 port
Easily connect to devices—no adapter necessary. Use the additional micro USB port to hook up two devices without requiring a hub, or simultaneously charge and stay connected. Enjoy data transfer rates up to 10 times faster than high speed USB 2.0 with the same plug-and-play convenience.

Front and rear cameras
Capture the world as only you can see it, or share the view from where ever you are using WinBook tablet's front and rear cameras.

Micro HDMI Port
When it's time to put your media on the big screen, WinBook tablet's micro High-Definition Multimedia Interface makes it easy. HDMI enables your device to connect to a TV or monitor for easier media viewing and editing, to share with a group, or just to kick back and enjoy.
HD IPS display
Breathtakingly beautiful. Exquisite color. Exceptional viewing angles. Everything looks better on a WinBook HD IPS display. That's really all we need to say. Its bright crisp appearance says the rest.



Microsoft Office 365 Personal included for one year

Every day is a perfect window of opportunity when it starts with a WinBook tablet and Office 365 Personal. The included one year free subscription enables you to download a current full version of the popular Office suite so you can view, edit, and create spreadsheets, a database, email, presentations, and more, giving you all of the tools you need for work, home, and entertainment.




Office 365 Personal includes:

Word
Excel
PowerPoint
OneNote
Outlook
Publisher
Access

Additional Features

Intel® BayTrail T Z3735D quad-core processor
Intel HD Graphics (Gen 7 GFX)
Micro SD card slot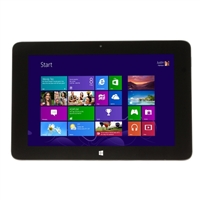 WinBook TW100 10.1 Tablet - Black

Widescreen IPS Touchscreen 10.1" 1280 x 800 Display; Intel Baytrail-T Z3735D 1.33GHz Quad-Core CPU; 2GB RAM & 32GB eMMC Flash Storage; Windows 8.1