Eclipse Enterprise

Eclipse Enterprise CATV Compression Crimper
Overview
This easy to use, low cost crimper easily crimps coaxial compression connectors from almost all manufacturers. Simply select the correct crimp head based on connector type (RCA/BNC/F type), strip the cable, put connector on cable, insert into tool and squeeze. Tool automatically controls compression force.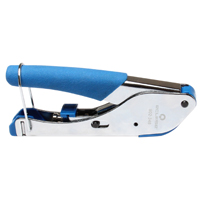 Eclipse Enterprise CATV Compression Crimper
Usually ships in 5-7 business days.