Just Hook It Up

Just Hook It Up DVI-I Female to HDMI Male Plug Video Adapter
Overview
Connects a HDMI component to a HDTV or other equipment with DVI connections. Supports high definition 1080p resolution. Provides maximum noise rejection and delivers excellent video signals. DVI 24-pin female jack to HDMI male plug.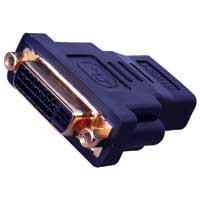 Just Hook It Up DVI-I Female to HDMI Male Plug Video Adapter
Usually ships in 5-7 business days.