QVS

QVS 23-Piece Computer Maintenance Tool Kit with Precision Screwdrivers
Overview
This toolkit is ideal for electronics and computer maintenance. It has 23 tools including 6pcs precision screwdrivers, 11pcs of screw bits & 1pc rachet bit adaptor, IC inserter/extractor clipper, 3-prong parts retrieval claw, compress & expand tweezer, reversible rachet driver & transparent spare parts storage tube. All tools are demagnetized for safe computer use. It comes with in ruggedized & padded vinyl carrying case.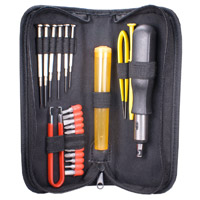 QVS 23-Piece Computer Maintenance Tool Kit with Precision Screwdrivers
Usually ships in 5-7 business days.