Samsonite

Samsonite Travel Converter and Adapter Kit
Overview
Samsonite Converter/Adapter Plug Kit is engineered for global travel. The compact power management kit includes a 1600 watt converter to transform 220V electricity to 110V, the standard in the U.S, Canada, and Mexico. Contains 4 country-coded adapter plugs corresponding to top foreign destinations: the UK, Europe. Asia, Australia, Africa, the Middle East and North and South America.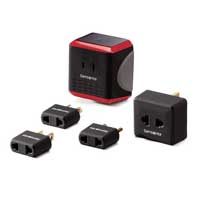 Samsonite Travel Converter and Adapter Kit
Usually ships in 5-7 business days.