Just Hook It Up

Just Hook It Up Outdoor Transformer 75 to 300 ohm
Overview
75 to 300 ohm. Matches 75 ohm input from coaxial cable to 300 ohm (VHF/UHF) output. Hooks up to 75 ohm coaxial cable with a F connector and 300 ohm twin lead cable attaches to antenna (Spade lugs).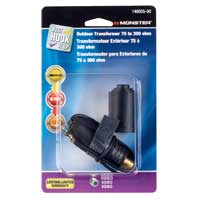 Just Hook It Up Outdoor Transformer 75 to 300 ohm
Usually ships in 5-7 business days.