Evil Mad Science

Evil Mad Science ATmegaXX8 Dev Kit - Standard Socket
Overview
The ATmegaXX8 Target Boards are low cost and convenient target/breakout boards for Atmel AVR microcontrollers. Fits ATmega48, ATmega88, ATmega168, and ATmega328 microcontrollers. These ATmegaXX8 Mini development kits each contain a ATmegaXX8 Target Board and some other parts to help you get started: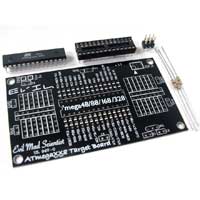 Evil Mad Science ATmegaXX8 Dev Kit - Standard Socket
Usually ships in 1-3 business days.