Thrustmaster

Thrustmaster T.Flight Hotas X
Overview
T.Flight Hotas X; the Joystick with detachable throttle control and firect configuration for immediate takeoff!! Entirely programmable for PC and PS3! 12 Buttons and 5 Programmable Axles. This is a High-precision joystick with adjustable resistance and weighted base for greater stability. This Flight controller will work especially well in popular flight games such as Microsoft Flight Simulator and Elite Dangerous.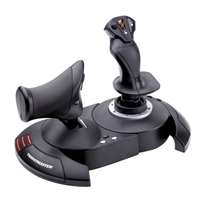 Thrustmaster T.Flight Hotas X
Usually ships in 1-3 business days.