Accell

Accell UltraAV DisplayPort to VGA Video Adapter
Overview
The UltraAV DisplayPort to VGA video adapter enables the connection of your DisplayPort supported computer to a VGA (HD-15) supported monitor or other VGA display. It supports VGA analog resolutions of up to 1920x1200 (WUXGA), 60Hz and is simple to setup and easy to use. Connect the DisplayPort (male) end of the connector to your computer and plug your existing VGA cable from the monitor into the VGA (female) adapter. Setup is complete, no software required. The circuitry built into the DisplayPort to VGA video adapter seamlessly converts the DisplayPorts video signal into a crystal clear VGA video signal. The latching DisplayPort connector keeps the adapter securely in-place.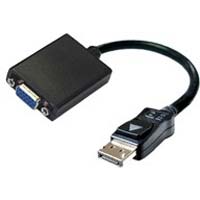 Accell UltraAV DisplayPort to VGA Video Adapter
Usually ships in 5-7 business days.