Printworks Printworks Bright Colors Multipurpose Paper

8.5" x 11" (Letter); 24 lb; 100 Sheets
Overview
8.5" x 11" (Letter)
24 lb
100 Sheets
Use Printworks Bright Multipurpose Paper for flyers and print projects that really pop! The four vibrant colors along with its heavyweight construction makes this paper not only perfect for printing but also makes a great craft paper. Each 100-sheet pack contains four attention-getting colors: canary yellow, fire-engine red, ultramarine blue and green apple. Printworks Bright Multipurpose Paper is guaranteed to give you impactful results on all inkjet printers and copiers.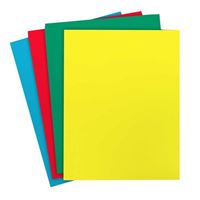 Printworks Bright Colors Multipurpose Paper

8.5" x 11" (Letter); 24 lb; 100 Sheets
Usually ships in 5-7 business days.