Snapmaker Snapmaker A350 2.0 Modular 3-in-1 3D Printer

Laser Engraver, CNC Carver, and 3D Printing Function; 5" Smart Touchscreen; Built-in Camera; Auto-Leveling
0 NEW IN STOCK at Cambridge Store

Condition
Warranty
Sales Terms
Price
Select One
COMPLETE


ID: 333582

REMAINING MANUFACTURER WARRANTY APPLIES
Available In-Store Only
SEE WARRANTY & SUPPORT FOR DET

$817.96

COMPLETE


ID: 336904

REMAINING MANUFACTURER WARRANTY APPLIES
Available In-Store Only
SEE WARRANTY & SUPPORT FOR DET

$1,132.96
Overview
Laser Engraver, CNC Carver, and 3D Printing Function
5" Smart Touchscreen
Built-in Camera
Auto-Leveling
Magnetic Heated Bed
Working Volume Support up to 320 x 350 x 330mm
Snapmaker 2.0, the modular 3-in-1 3D printers that unlock your full creative potential, from 3D printing to laser engraving, cutting, and CNC carving. Snapmaker 2.0 is smarter, faster, larger, and more powerful than ever before. It is a new generation of 3-in-1 3D printers that come with everything you need!
Unlock Your Full Creative Potential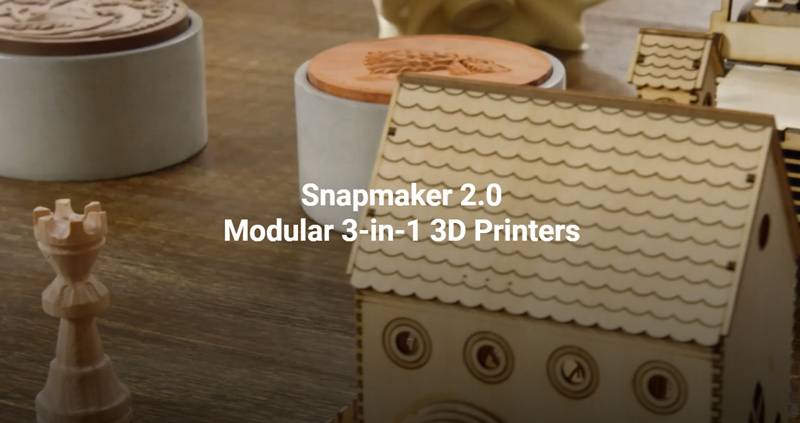 3-In-One
3D Printing
Snapmaker 2.0 Modular 3-in-1 3D Printer A350/A250/A150 is ideal for beginners who are just getting started, hobbyists who prefer more customized options, as well as engineers and designers who want to print large objects or accurate parts with outstanding print quality.
Auto Leveling
Filament Runout Recovery
Upgraded Cooling System
Removable Print Sheet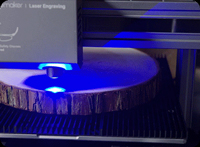 Laser Engraving and Cutting
While traditional 3D printers can only 3D print, your A350/A250/A150 is entirely different. A350/A250/A150's functionalities can be changed quickly with interchangeable modules, just like changing lenses on a camera. Now you can make many kinds of beautiful and artistic creations by laser engraving and cutting.
Built-in camera
Faster work speed
Aluminum grid table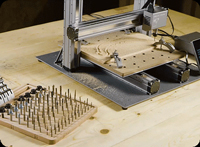 CNC Carving
You can even use your A350/A250/A150 as a CNC router to create precise 2.5D and 3D objects. It has a more stable work speed and a much larger work area than Snapmaker Original, which is a perfect machine to extend your interest in CNC carving.
ER11 Collet
Wasteboard & Clamping Kits
Dust Resistance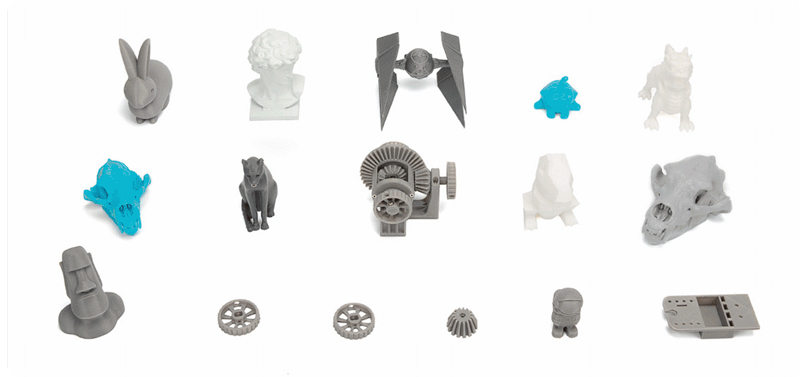 A Powerful and Expandable 3D Printer
Modular Design
The creative application of the Controller Area Network realizes modularity, so you can further exploit your creativity to personalize your A350/A250/A150 with powerful modules and amazing add-ons. For a greater level of applications, we have Enclosures, Rotary Module, Emergency Stop Button, and Air Purifier available for sale!
Large work area
Modules and add-ons
Powerful controller
Ease of Use
The A350/A250/A150 is designed for you to use with ease. The assembly will be very user-friendly for makers. With Wi-Fi or the USB cable, you can connect your A350/A250/A150 to any configuration for your convenience. Our Touchscreen, which simplifies the workflow of your daily projects, also enables you to manage the most-used tasks directly.
Wi-Fi connectivity
Smart touchscreen
Power loss recovery
Easy to assemble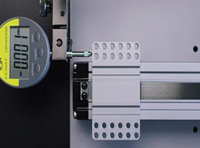 High Quality
For the A350/A250/A150, we pushed the boundaries of all-metal design even further. The parts are made precisely and reliably the high-performance aluminum alloy. The A350/A250/A150 not only looks premium, but also consistently delivers high performance. Integrating only the finest quality components, it has high accuracy and repeatability, which allows it to 3D print, laser engrave, and CNC cut objects in high resolution.
All metal
Well-made
High precision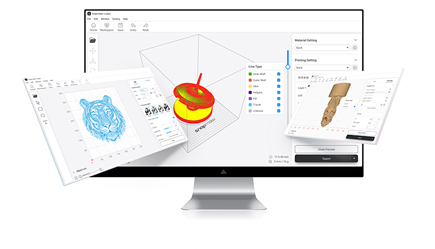 3-in-1 Software
Our 3-in-1 software, Luban, is tailor-made for your Snapmaker machines. It is a free, open-source CAM software committed to software services that allow full controls over 3D printing, laser engraving and cutting, and CNC carving capabilities: one single and powerful software for all your tasks.
Dozens of Materials
Our machine supports so many materials that you couldn't even imagine. From PLA, ABS, TPU, PETG for 3D printing, wood, MDF, vegetable-tanned leather, cotton fabric, A4 white paper, white cardstock, corrugated fiberboard, non-transparent acrylic for laser engraving and cutting, to acrylic sheet, carbon fiber sheet, POM, PCB for CNC carving and more being tested. The A350/A250/A150 makes your every inspiration a reality.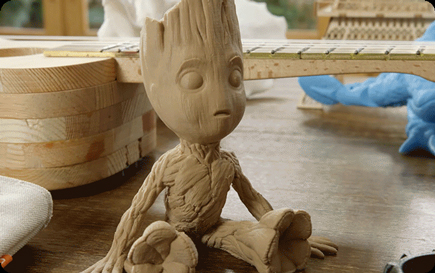 Specifications
A350 Construction
Frame material: Aluminum alloy
Data Transmission: Wi-Fi , USB cable, USB flash drive
Touchscreen specs: 5 in. Android OS, Quad-core 1.1GHz ARM Cortex-A7
Supported software: Snapmaker Luban, or 3rd party software
Supported file types: .stl, .obj, more formats to be added
Supported OS: Windows, Mac, Linux
Rated power: 320W
3D Printing
Layer resolution: 50 - 300 microns
Nozzle diameter: 0.4mm
Max nozzle temperature: 275 degrees C
Supported materials: PLA, ABS, PETG, TPU, wood filled PLA, and more being tested
Laser Engraving and Cutting
Camera: Built-in camera
Laser power: 1600mW
Wavelength: 450nm
Laser class: Class 4
Supported materials: Wood, leather, plastic, fabric, paper, non-transparent acrylic, and more being tested
CNC Carving
Shank diameter: 0.5 - 6.35 mm
Spindle speed: 6,000 - 12,000 RPM
Spported materials: Wood, acrylic, PCB, carbon fiber sheet, jade, and more being tested
Models Comparison
Features and Specs

| | |
| --- | --- |
| Snapmaker 2.0 A350 | Snapmaker Original |
| Data Transmission: WiFi, USB cable | USB cable |
| Touchscreen Specs: 5 in. Android OS, Quad-core 1.1 GHz ARM Cortex-A& | 3.5 in. |
| Encloased Linear Modile: Yes | No |
| Recommended for: Professionals | Beginners |
| Max Nozzle Temp: 275 degrees C | 250 Degrees C |
| Auto Leveling: Yes | No |
| Filament Runout Recovery: Yes | No |
| Supported Materials: PLA, ABS, PETG, TPU | PLA, ABS, PETG |
| Easy To Replace Hot End:Yes | No |
| Removable Print Sheet: Yes | No |
| Built-in Camera: Yes | No |
| Laser Power: 1600mW | 200mW |
| Wavelength: 450nm | 405nm |
| Laser Class: Class 4 | Class3B |
| Shank Diameter: 0.5 - 6.35mm | 3.175mm |
| Spindle Speed: 6000 - 12000 RPM | 19000 |
| Speed Regulation: Yes | No |
| Shank Chuck: ER11 Collet | Shaft Coupling |
In the Box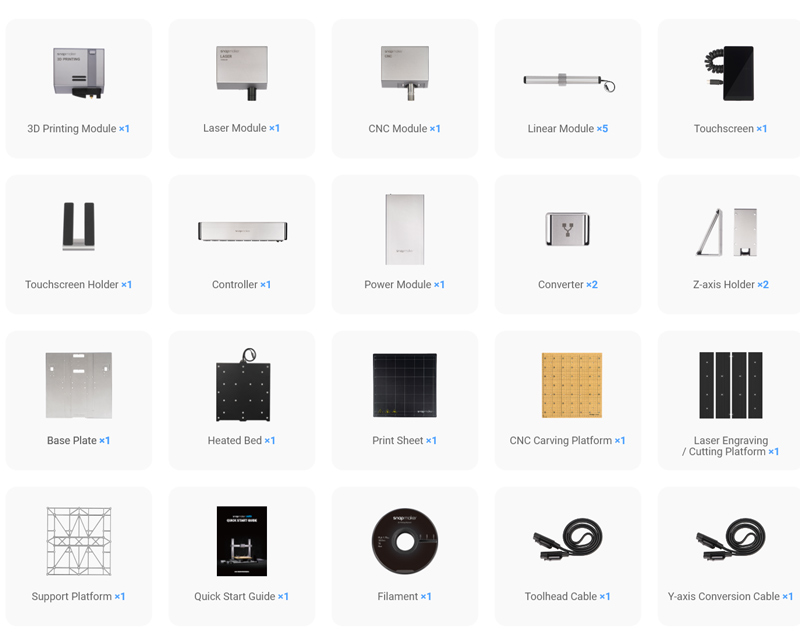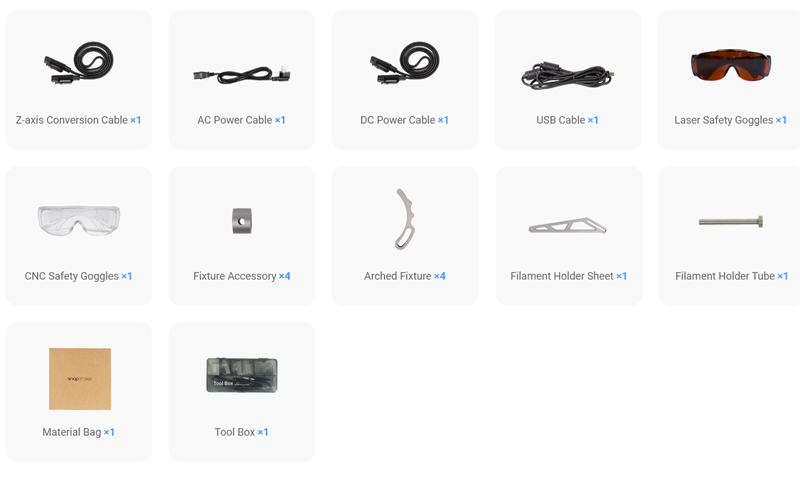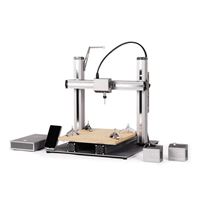 Snapmaker A350 2.0 Modular 3-in-1 3D Printer

Laser Engraver, CNC Carver, and 3D Printing Function; 5" Smart Touchscreen; Built-in Camera; Auto-Leveling
0 NEW IN STOCK at Cambridge Store