Adafruit Industries

Adafruit Industries Feather M0 Express - Designed for CircuitPython
Overview
It's our first Feather that is specifically designed for use with CircuitPython! CircuitPython is our beginner-oriented flavor of MicroPython - and as the name hints at, its a small but full-featured version of the popular Python programming language specifically for use with circuitry and electronics.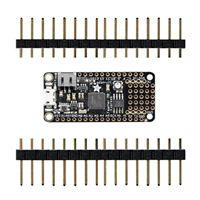 Adafruit Industries Feather M0 Express - Designed for CircuitPython
Usually ships in 5-7 business days.