Raspberry Pi 4 Desktop Solution - 4K USB 3.0 4GB Dual Monitors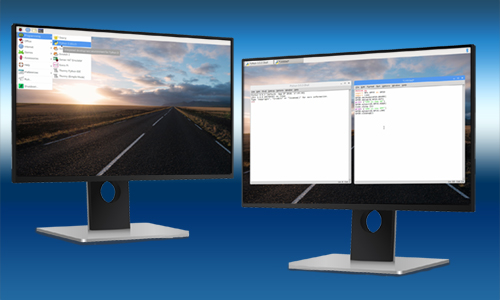 What is a Raspberry Pi?
If you are reading this article without a background knowledge on all things Raspberry Pi, here is a quick rundown: A Raspberry Pi is full single board computer capable of running an operating system. The OS ran on a Raspberry Pi is typically a variant of Linux. What makes this small, credit card sized computer so impressive is the punch it packs for its price. At the typical $35 price point, the previous Raspberry Pi 3B+ has included a 1.4Ghz quad core processor with 1080p HMDI out and four USB ports for accessories such as external drives, mice and keyboards, and much more. The past two versions, 3B+ and 3B, have also included an Ethernet port as well as Wireless connectivity.
So, what can you do with a Raspberry Pi? Up until this point Raspberry Pi's power and its default operating system, Raspbian, have been able to tackle ever day tasks such as web browsing, media playback, and some basic gaming, including the ever-popular Minecraft. With a focus on learning to program, the operating system has come with many built-in options, such as Scratch 2 and Python 3. Combine all these features with an active and expansive community of users, and you've got an ecosystem that is hard to beat.
Raspberry Pi 4 – A Desktop Solution
What are the advantages of the new Raspberry Pi 4? With the new launch of Raspberry Pi 4 Model B in three RAM configurations, 2GB, 4GB, and 8GB, the Raspberry Pi Foundation hopes that this new board is viewed as a contender for your next basic desktop computer. Raspberry Pi Model 4 has specs that are comparable, if not better than, some current Chromebooks on the market. The upgrade to 1.5Ghz from 1.4Ghz and the option for up to 8GB of RAM shows that the Raspberry Pi Foundation is truly after a machine that is capable of handling everyday tasks with ease.
Some additional major changes to the Raspberry Pi 4 family make it even better suited to do your daily tasks. The addition of two Micro HDMI ports in lieu of the standard HDMI allows the Raspberry Pi 4 family to display its operating system on two monitors. A dual monitor setup has become the popular option for many people, especially when the setup is for a workspace. While the graphical output capability is also much greater at 4k 60 fps for a single monitor and 30 fps for dual, it has yet to be seen how powerful the new processor with the additional RAM truly is. The change to USB C as its power input allows for additional amperage to service more peripherals and finally have true gigabit Ethernet. The addition of two USB 3.0 ports will also see a boost in data transfer speeds. This will finally allow makers to use Raspberry Pi as a server capable of transferring data at today's faster speeds.

Video Output
Thanks to the new ARM Cortex A72 processor with 1.5Ghz quad-core processing, the video output sees an increase in instructions-per-clock over the old Cortex A53. This means that with the new support of VideoCore VI, we'll see the native support for OpenGL ES 3.2 allowing for better processing of games that use 3D graphics. The new version of the Raspbian operating system will include display management software to ensure that dual monitor setup is easy. While you can only get 4k 60 FPS on a single monitor and 30fps on a dual monitor, most users will be more than happy with the quality, receiving their standard 1080p resolution on the dual monitors.
Windows on Raspberry Pi?
There have been previous attempts at running versions of Windows 10 on Raspberry Pi with limited success. Windows released a version of their "IOT Core" which is more for prototyping and not for running desktop apps. There is hope in the maker community that based on this recent release with up to 4GB of RAM, that we will see a version of Windows that is at least capable of running basic applications such as Office and browsing the web on Raspberry Pi 4. Until that day comes, users will be better off sticking with the most recent release of the Raspbian operating system.
The Desktop Kit
If all of the upgrades weren't an indication of the Raspberry Pi Foundation's intentions, the Foundation has also announced what they are calling their Desktop Kit. This kit will include the 4GB variant of the board as well as the official Raspberry Pi mouse, Raspberry Pi keyboard, Raspberry Pi power supply, Raspberry Pi case, and two Micro HDMI to HDMI cables. The kit also includes a copy of their Raspbian operating system as well as a copy of the revised The Official Raspberry Pi Beginner's Guide, making this a well-rounded kit that includes essentially everything but the monitor(s). The desktop kit is set to come out shortly following the release of Raspberry Pi 4 at a suggested retail of $120 USD.


How Much for a slice of Pi?
As usual, the Raspberry Pi Foundation has worked to keep the cost of their popular single board computer down. The 1GB entry model's suggested retail will remain at $35 and the 2GB and 4GB will be at $45 and $55 respectively. As always, Micro Center strives to carry the best assortment of maker products at the best price. Check out the new products in this launch online, or find them at your nearest Micro Center location.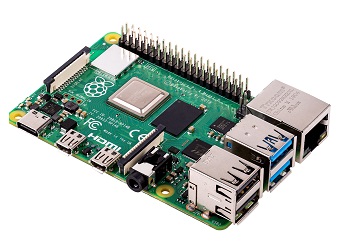 New Official Accessories
The Foundation recently launched their official Raspberry Pi keyboard and Raspberry Pi mouse in two color schemes, black / grey and red / white. For the previous Raspberry Pi 3B+ and 3B releases, they also launched official branded Raspberry Pi power supplies in both black and white. With the launch of the new Raspberry Pi 4 board, the Raspberry Pi Foundation is also introducing a number of official accessories including new power supplies that support USB C at 15W in both black and white. There will also be a new official Raspberry Pi case available at launch or shortly thereafter. The Raspberry Pi Foundation will also be releasing a revision to its popular Raspberry Pi book The Official Raspberry Pi Beginner's Guide 2018 now featuring the new Raspberry Pi 4 Model B. See below for the available accessories.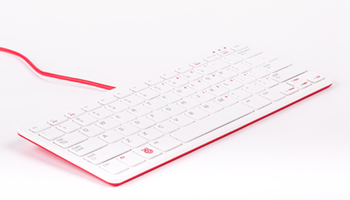 Check Online for Availability at your Local Micro Center Store
Raspberry Pi 4 Model B 2GB
Raspberry Pi 4 Model B 4GB
Raspberry Pi 4 Model B 8GB
Raspberry Pi USB C 15 W Power Supply Black / White
Raspberry Pi Keyboard Black & Grey / White & Red
Raspberry Pi Mouse Black & Grey / White & Red
Raspberry Pi Desktop Kit
The Official Raspberry Pi Getting Started Guide 2019
Additional Links