Welcome to our CENTERewards Program

You're computer savvy, technology smart and money wise. That's why you're one of our loyal Tustin Micro Center shoppers. And that's why we're offering you a quick and easy way to get a bonus every time you shop - above and beyond our great pricing and monthly hot offers.
Get a Bonus every time you shop.
Sign up to be a CENTERewards Member, and receive special coupon offers...and additional benefits as we expand our program. Bonuses include reward coupons for instant savings or for future purchases.
It's Quick and Easy.
There's no card to carry. No credit card required. No inflated prices and no membership fees. Read the FAQs below for additional information.
Tell Me More.
Becoming a CENTERewards Member requires just three easy steps:
Download the Enrollment Agreement
Print and fill out the agreement, and bring it to your store
Turn in your completed form to a Customer Service Associate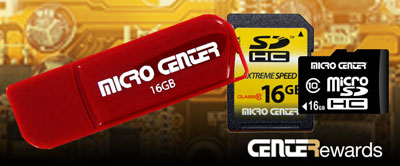 Enroll Now
and receive your choice of a 16GB Flash Drive, or SDHC card, or Micro SDHC card!

DOWNLOAD your Enrollment Form NOW!
(824KB PDF file)

Need Adobe Acrobat Reader?
Download a free copy
here

How do I enroll in the Program?
Simply complete and sign an Enrollment Form available in the store, or save time and download one now. Periodically, we offer a gift at the store for you just for enrolling.
Is there any cost to me?
No, there is no membership fee or other costs to participate.
Do I have to apply for a credit card?
No, there's no credit card associated with this program.
Other than coupons, are there other benefits to becoming a CENTERewards member?
If you sign up for our email newsletters, you'll receive additional coupon offers. Also, members may eventually be offered special in-store services. We'll let you know when they become available.
Are there any program restrictions?
The program is only available at our Tustin store

One enrollment per person; each enrollee must be least 18
Each year or two you may be asked to renew your enrollment
The coupons issued are not valid on the day of issue
Do you issue a membership card?
No, we know you don't want to carry around another card. Instead, we ask you simply to choose and remember a 4-digit number as your member number. You'll need this number when you check out to receive your coupon(s). If you don't remember your member number, we can prompt you if you've chosen either
The last four digits of your phone number
Your birth month and day (expressed as four digits - such as 0704 for July 4th)
Are there any points?
No - we offer you upfront coupon discounts rather than an accumulating points program...immediate rewards are more valuable.
Do I need to be a Member to receive benefits?
Yes, discounts and other benefits accrue to members only. Non-members still enjoy our monthly hot offers, competitive prices and great service.
Do I need to receive print ads to qualify for this program?
No. We do require that you provide your name and address to qualify, but you may opt out of receiving mailings either by informing your cashier or online. However, our mailed ads have all our monthly specials, and if you sign up for our email newsletter, eNews Update, you'll receive additional savings opportunities.
What about the coupons - their value and expiration dates?
Coupon offers will change over time, will reflect a variety of discounts, and will be redeemable on a number of select products. Coupons do expire after a reasonable time. Coupons print automatically on your receipt. Be sure to save your receipt; we cannot reprint or replace lost receipt coupons.
Can I accumulate coupons?
No, at this time you cannot redeem multiple coupons on a single transaction.
Will you track my purchases?
We do accumulate information on the items you purchase so that we may send you offers more tailored to your product interests. We also have the ability in store to look up your past purchases (at your request) to help you buy add-on items that are compatible with a current purchase. We do not provide customers' product purchase information to anyone else. Read our privacy policy for additional information.
Can I use my CENTERewards for online purchases?
No, at this time this program is only available for in-store purchases at our Tustin store.
Can I apply online for the CENTERewards program?
No, at this time we can only process your Enrollment Form at our Tustin store.