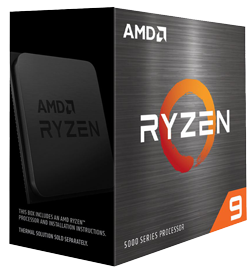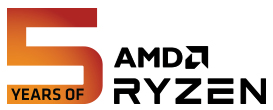 5 YEARS OF POWER
Celebrating a history of more performance, more innovation, more choice. More to come.

AMD Ryzen™ processors. Light years ahead.
Award-winning performance and optimized processor technology. For gamers. For creators. For everyone.
3rd Gen Ryzen™ Threadripper™ processors
Break free from the render bar. Realize your creative vision with the world's most powerful desktop processors1.
AMD 3rd Gen Features

| | AMD Ryzen Threadripper Processors | AMD Ryzen 9 Processors | AMD Ryzen 7 Processors | AMD Ryzen 5 Processors* |
| --- | --- | --- | --- | --- |
| Cores / Threads | Up to 64/128 | Up to 16/32 | 8/16 | 6/12 |
| Max Boost Clock | Up to 4.5GHz | Up to 4.7GHz | Up to 4.7GHz | Up to 4.5GHz |
| Ryzen Technologies: Precisions Boost 2, Precision Boost Overdrive, AMD StoreMI Technology | | | | |
| PCIe® 4.0 Ready | | | | |
*Ryzen 5 3400G not included
Gaming
Higher speeds. More memory. Wider bandwidth. With 3rd Gen AMD Ryzen™ processors you can enjoy incredible, smooth performance in the most demanding games, from competitive 1080p to ultra-quality 4K resolution.
Content Creation
You need a machine that can truly multi-task with blazing fast rendering for rapid visual feedback, along with plenty of extra cores to simultaneously edit footage, animate a character or fine tune a design. 3rd Gen AMD Ryzen™ Threadripper™ lets you create without compromise.
Build with Powerful 3rd Gen Tech
AMD Precision Boost 2
Accelerates performance for intense workloads, automatically boosting CPU clock speeds on 3rd Gen AMD Ryzen and Ryzen Threadripper processors. Whether your application uses one core or many, Precision Boost 2 is always watching temperature and power consumption to intelligently deliver the best possible result for your PC.
AMD Precision Boost Overdrive
Available on all 3rd Gen AMD Ryzen and Ryzen Threadripper processors, Precision Boost Overdrive makes automatic overclocking possible with increased clock speed and power limits at the touch of a button.
AMD StoreMI
A fast and easy way to expand and accelerate the storage in a desktop PC with an AMD Ryzen™ processor by easily combining SSD speed with HDD capacity.
AMD 7nm "Zen 2" Architecture
Gaming and content creation demand a powerful processor with a high-throughput core architecture. The 3rd Gen AMD Ryzen™ and Ryzen Threadripper processors with the 7nm "Zen 2" core sets that standard: exclusive manufacturing technology, historic on-chip throughput, and revolutionary overall performance.
Use our Custom PC Builder & Build with AMD
Unmatched PC computing experiences start with AMD processors.
1 Testing by AMD performance labs on 10/07/2019 comparing an AMD Ryzen™ Threadripper™ 3970X and AMD Ryzen™ Threadripper™ 3960X vs. Intel© Core™ i9-9980XE in the Cinebench R20 nT benchmark test. Results may vary. CPK-02