Maker Electronics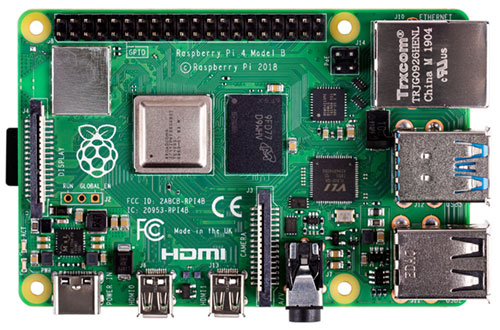 A New Slice of Pi
Raspberry Pi 4 Model B is the latest product in the popular Raspberry Pi range of computers. It offers ground-breaking advances in processor speed, multi-media performance, memory, and connectivity compared to the prior-generation Raspberry Pi 3 Model B+. while retaining backwards compatibility and similar power consumption. For the end user, Raspberry Pi 4 Model B provides desktop performance comparable to entry-level x86 PC systems.
Key features include a high-performance 64-bit quad-core processor, dual-display support at resolutions up to 4K via a pair of micro-HDMI ports, hardware video decode at up to 4Kp60, up to 4GB of RAM, dual-band 2.4/5.0 GHz wireless LAN, Bluetooth 5.0, Gigabit Ethernet, USB 3.0, and PoE capability (via a separate PoE HAT add-on).
The dual-band wireless LAN and Bluetooth have modular compliance certification, allowing the board to be designed into end products with significantly reduced compliance testing, improving both cost and time to market.
Pi 4: A Full Desktop Solution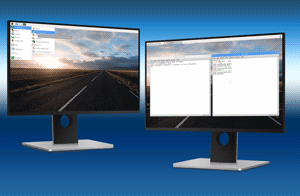 With today's launch of the Raspberry Pi 4 Model B in three RAM configurations, the Raspberry Pi Foundation hopes this will be viewed as a contender for your next basic desktop computer. The Raspberry Pi 4 Model B has specs comparable to if not better than some current Chromebooks on the market. The upgrade to 1.5 GHz from 1.4 GHz and the option for up to 4 GB of RAM show the foundation is truly after a machine capable of handling everyday tasks with ease.
MAIN BOARDS & STARTER KITS
Arduino/Arduino-Compatible Main Boards »
BeagleBone Main Boards »
Raspberry Pi Main Boards »
SHIELDS & SENSORS
Shields & Sensors »
SOLDERING
Soldering Irons »
Soldering Stations »
Soldering & Desoldering Accessories »
Soldering Replacement Tips »
Soldering & Solder Paste »
Soldering & Desoldering Supplies »
Videos
Lady Ada from Adafruit Industries Interviews Micro Center's CEO & President, Rick Mershad, about the Company Culture and the Growing BYO and DIY Electronics Space.
Raspberry Pi 4 vs. 3B+. We get hands on with the Raspberry Pi 4 and cover the differences between Raspberry Pi 4 and its predecessor.
We've Got It All
Micro Center is your go to place for all things maker, DIY electronics, hobbyist electronics, electrical engineering, hackers, and tinkering. Whether you're new to the maker movement and want to learn what's the difference between Raspberry Pi and Arduino, or if you're an advanced member of the maker community looking for the newest maker/DIY electronics kits, we've got you covered. Our wide maker assortment of single board computers, DIY electronics kits, SBC accessories, and hobbyist projects will fill every maker's need. We carry the latest products from Raspberry Pi, Adafruit, Arduino, SparkFun Electronics, Kano, Canakit, and more! With a dedicated and trained sales staff that can help with any electronics problem, from learning what is the Raspberry Pi, to what's the difference between Raspberry Pi 4 vs. 3B+, you'll be ready to take on any maker project. Makerspace and hakerspace community members will find all the products and expertise they need all in one place.
Come in to one of our 25 locations nationwide and get hands on with the new Raspberry Pi 4 Model B. Our sales staff will set you up with all the new Raspberry Pi 4 accessories including the Raspberry Pi keyboard, Raspberry Pi mouse, Raspberry Pi case, and Raspberry Pi guide. We will walk you through the new Raspberry Pi 4 features including 4k, support for dual monitors, up to 4GB, and USB 3.0. Come in today and start making!