Overview
The XT-HDMI-SM-4K18G HDMI Signal Manager has been designed to help solve HDMI compatibility, HDCP 2.2, clock stretching, EDID, and handshaking issues that are common problems when distributing HDMI signals. The XT-HDMI-SM-4K18G also enables de-embedding or embedding audio within the HDMI signal path, allowing breakout of up to 7.1 channel audio signals. The XT-HDMI-SM-4K18G supports full HDMI 2.0 and HDCP 2.2 with video resolutions up to and including 4K @ 60Hz 4:4:4.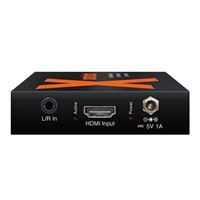 Advanced Signal Manager with Audio Embedder, De-Embedder, and EDID Management
Available for In-Store Pickup Only.