Creality

Creality SL-01 Resin UV Curing Box with Light Driven Turntable
Overview
Besides two 405nm LED strips (12 UV LED light) on the box wall, SL1 3D curing box adopts another LED strip(2 UV LED light)on the ceiling of box in order to fast cure and evenly illuminate printed models. The light driven turntable is able to absorb UV light to rotate without battery. There is reflective sheet inside the cabinet which has the lights focused to get a better curing effect. There are 3 options (2 min/4 min/6 min) for curing time, which save your time and enable you to control the curing time conveniently. The see-through window not only assists you to observe the curing process, but also help keep the UV light away from leakage. The maximum capacity of SL1 is 163 x 166 mm, which can meet the curing task of LCD printers with 5.5" or 6" print size.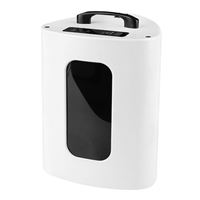 Creality SL-01 Resin UV Curing Box with Light Driven Turntable
Usually ships in 5-7 business days.