Raspberry Pi Raspberry Pi Pico Microcontroller Development Board

Based on The Raspberry Pi Dual-Core ARM Cortex M0+ RP2040 Processor, up to 133 MHz, Supports C/C++/MicroPython/CircuitPython

Overview
Based on The Raspberry Pi Dual-Core ARM Cortex M0+ RP2040 Processor, up to 133 MHz, Supports C/C++/MicroPython/CircuitPython
Raspberry Pi Pico is a tiny, fast, and versatile board built using RP2040, a brand new microcontroller chip designed by Raspberry Pi in the UK. Designed by Raspberry Pi, RP2040 features a dual-core Arm Cortex-M0+ processor with 264KB internal RAM and support for up to 16MB of off-chip Flash. A wide range of flexible I/O options includes I2C, SPI, and - uniquely - Programmable I/O (PIO). These support endless possible applications for this small and affordable package. From controlling appliances to operating a light display, Raspberry Pi Pico puts the technology that underpins countless everyday operations into your hands. Programmable in C and MicroPython, Pico is adaptable to a vast range of applications and skill levels, and getting started is as easy as dragging and dropping a file. More experienced users can take advantage of Raspberry Pi Picos rich peripheral set, including SPI, I2C, and eight Programmable I/O (PIO) state machines for custom peripheral support.
More speed. More power. More memory.

Raspberry Pi Pico is the first microcontroller from Raspberry Pi. This small microcontroller is ideal for projects that don't call for a full blown single board computer but require more speed, power, or memory than other inexpensive microcontrollers.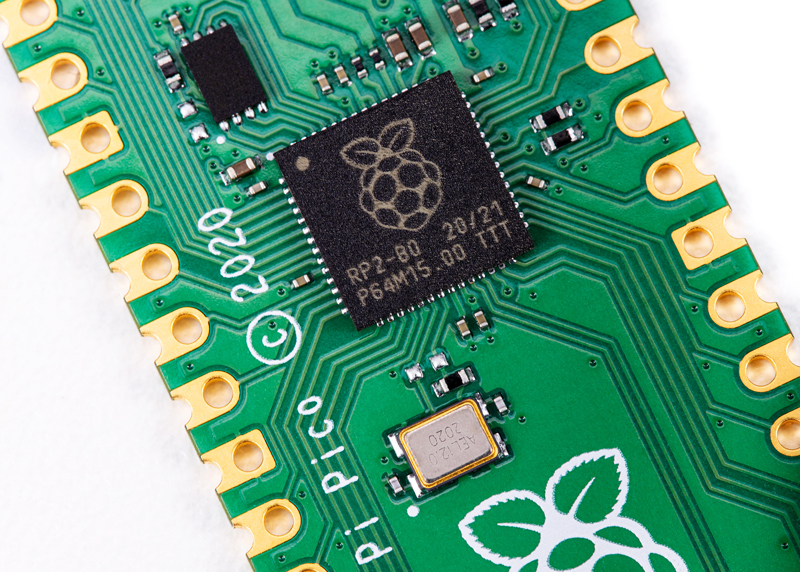 Connectivity
The Raspberry Pi Pico features 26 GPIO pins (including 3 12 bit ADC pins), 16 PWM channels, UART, I2C, SPI, and a serial debugging port provide a wide range of connectivity for sensors, lights, and other devices.
Features
26 GPIO pins, 3 of which are ADC capable, provide plenty of connectivity
Features RP2040 microcontroller with 2 Cortex M0 cores and 2MB flash
UART, I2C, SPI, and PWM provide connectivity to external hardware
Castellated .1" pins header holes are perfect for prototyping or integrating into finished products
3 pin Serial Wiring Debug Port provides a dedicated debug interface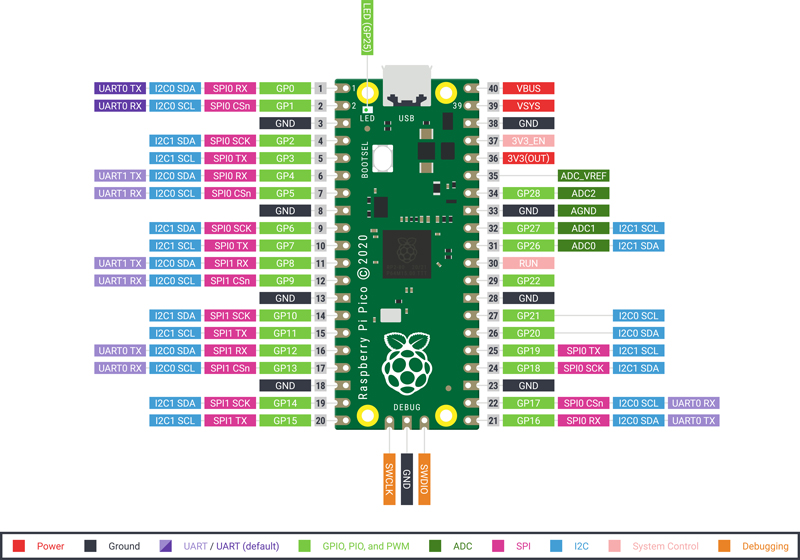 Expandability
The Raspberry Pi Pico features castellated pins with a .1" pitch in a DIP format. This makes it easy to connect the Pico to a breadboard for prototyping, solder it directly to a PCB for use in embedded applications, or design peripheral hardware that plugs into headers.
Flexibility
The Raspberry Pi Pico is compatible with MicroPython and C/C++, offering the flexibility to choose between the ease of Python or the speed and power of C/C++.
Custom Silicon
The Raspberry Pi Pico has been designed around the RP2040 processor. This processor was purpose made by Raspberry Pi and features 2 Cortex M0+ cores, 2s64 kB of embedded flash, and USB 1.1 host/device capability.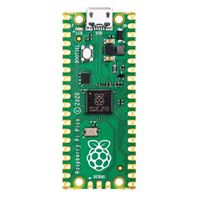 Raspberry Pi Pico Microcontroller Development Board

Based on The Raspberry Pi Dual-Core ARM Cortex M0+ RP2040 Processor, up to 133 MHz, Supports C/C++/MicroPython/CircuitPython
BUY IN STORE