AMD

AMD Ryzen 5 5600X Vermeer 3.7GHz 6-Core AM4 Boxed Processor - Wraith Stealth Cooler Included
Save $20 when bundled with a compatible eligible motherboard
Available for In-Store Pickup Only.

Overview
Compared to previous generations, the AMD Ryzen 5 5600X processor proves to be a massive step forward performance wise. Featuring 6 cores and 32 MB of L3 cache, the AMD Ryzen 5 5600X processor is regarded as one of the finest gaming processors available right now. Such features allow for a smoother experience running multiple applications, regardless of how demanding they may be.
In addition, AMD Ryzen CPUs also have software tailored to maximizing the performance you can get out of them, such as the Ryzen Master Utility. The Ryzen Master Utility software allows you to overclock your CPU from the base of 3.7GHz up to a maximum of 4.6GHz. It can also adjust your CPUs voltage and memory timings in real time.
The AMD Ryzen 5000 Series processors also feature Zen 3 architecture, which would serve to be beneficial to those who game on a PC. The Zen 3 architecture is the key component in higher Instructions Per Clock (IPC), lower latency, and improved efficiency compared to previous generations. The AMD Ryzen 5000 series processors see an increase of up to +24% energy efficiency, an improvement only achievable through the combination of 7nm process alongside the Zen 3 architecture.
Max boost for AMD Ryzen processors is the maximum frequency achievable by a single core on the processor running a bursty single threaded workload. Max boost will vary based on several factors, including, but not limited to: thermal paste, system cooling, motherboard design, the latest AMD chipset driver, and the latest OS updates.


Testing by AMD performance labs as of 09/01/2020. IPC evaluated with a selection of 25 workloads running at a locked 4GHz frequency on 8 core Zen 2 Ryzen 7 3800XT and Zen 3 Ryzen 7 5800X desktop processors configured with Windows 10, NVIDIA GeForce RTX 2080 Ti (451.77), Samsung 860 Pro SSD, and 2x 8GB DDR4 3600. Results may vary. R5K 003


Testing by AMD performance labs as of 09/01/2020 measuring gaming performance of a Ryzen 9 5900X desktop processor vs. a Ryzen 9 3900XT in 11 popular titles at 1920 x 1080, the high image quality preset, and the newest graphics API available for each title (e.g. DirectX 12 or Vulkan or DirectX 11). Results may vary. R5K 009
---
See Other Socket AM4 CPUs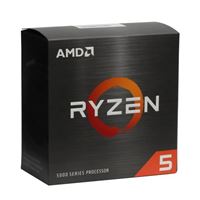 AMD Ryzen 5 5600X Vermeer 3.7GHz 6-Core AM4 Boxed Processor - Wraith Stealth Cooler Included
Available for In-Store Pickup Only.