AMD

AMD Ryzen 9 5900X Vermeer 3.7GHz 12-Core AM4 Boxed Processor - Heatsink Not Included
Save $20 when bundled with a compatible eligible motherboard
Available for In-Store Pickup Only.

Overview
AMD touts this processor as being the AMD Ryzen processor for creators. Take advantage of 12 cores, 24 threads, and PCIe 4.0 support to conquer multithreaded tasks like 3D rendering, video rendering, and software compilation.
This chip can overclock to speeds up to a whopping 4.8GHz from a base of 3.7GHz. You are going to get great gaming performance and superb streaming quality with this processor. Built on Zen 3 architecture, each computed die only has one core complex holding up to 8 cores. This, in turn, cuts down on latency when the cores communicate, as they are all in the same space. Also, the CCD now has full access to the 32MB of L3 cache, which is exactly what you are looking for in terms of gaming performance.
Settings for the Ryzen 9 5900X processor can be tweaked using the AMD Ryzen Master Utility. This companion software is ideal for someone looking to customize their experience with their CPU clock, voltage, and timings. You can even go as far as setting profiles in the cloud to be accessed on other Ryzen processor powered systems.
It still has the same hyperthermal qualities as its family members, so be sure to properly cool your system to preserve your performance. One of the biggest advantages when it comes to your current build is that you likely do not have to replace your motherboard since you can drop this processor into any AMD 500 series motherboard with a simple BIOS update.
Max boost for AMD Ryzen processors is the maximum frequency achievable by a single core on the processor running a bursty single threaded workload. Max boost will vary based on several factors, including, but not limited to: thermal paste, system cooling, motherboard design, the latest AMD chipset driver, and the latest OS updates.


Overclocking AMD processors, including without limitation, altering clock frequencies, multipliers, memory timing, ot voltage to operate beyond their stock specifications will void any applicable AMD product warranty, even when such overclocking is enabled via AMD hardware or software. This may also void warranties offered by the system manufacturer or retailer. Users assume all risks and liabilities that may arise out of overclocking AMD processors, including, without limitation, failure of or damage to hardware, reduced system performance or data loss, corruption, or vulnerability.
---
See Other Socket AM4 CPUs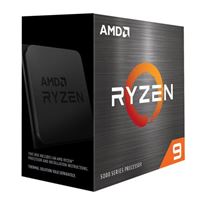 AMD Ryzen 9 5900X Vermeer 3.7GHz 12-Core AM4 Boxed Processor - Heatsink Not Included
Available for In-Store Pickup Only.