Motorola

Motorola ML1250 4-Line Expandable Corded/Cordless Combination
Overview
Building a system is easy! Simply plug the Motorola ML1250 base station into a phone jack and wirelessly connect the included handset and up to 9 ML1200 cordless handsets and or ML1100 desk phones (sold separately). Only the ML1250 base station needs to be connected to a phone jack.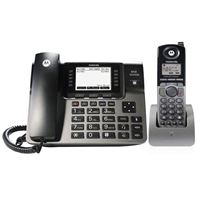 Motorola ML1250 4-Line Expandable Corded/Cordless Combination
Usually ships in 5-7 business days.