SparkFun Electronics

SparkFun Electronics Qwiic Pro Micro - USB-C (ATmega32U4)
Overview
Here at SparkFun, we refuse to leave 'good enough' alone. That's why we're adding to our line-up of Arduino-compatible microcontrollers once more! The SparkFun Qwiic Pro Micro is a revision of the original Pro Micro and is, overall, functionally the same as the previous version. The board is the same size as the original Pro Micro but we added a few additional features by shrinking down some components on the board such as a reset button, Qwiic connector, USB-C, and castellated pads (this makes it really handy for you custom keyboard creators out there)! Think the Pro Mini except with an ATmega32U4 on board and full USB functionality.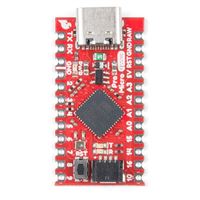 SparkFun Electronics Qwiic Pro Micro - USB-C (ATmega32U4)
Usually ships in 5-7 business days.